SemWare propagates your hopes for a very good year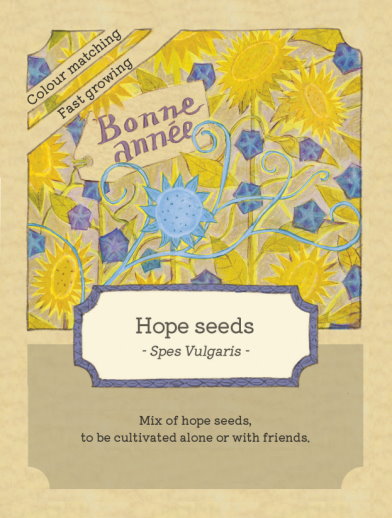 In these difficult times, when the light seems to recede as the months and the years pass, it seems more than urgent to maintain hope. What if this new year bore a brand new impetus? What if, in addition, we decided to give a helping hand?
A few seeds of hope sown here and there should be enough to serve this purpose... And what's great is that we already have a very fine collection of such seeds: since 1995, we have not stopped propagating them, from our own hopes, but also from all those brought to us by our clients, partners and friends, during all these years. What's more, we are experts in the field of seeds, so we know very well that they carry within themselves all the potentialities of an unresolved future!
Among all these hopes, our favourites are the young ones, because they are the ones which are preparing to build the world of tomorrow. But, with us, all hopes are allowed! So we are open to all sorts of hopes, including the oldest, because their tenacity bears great promises. By the way, isn't the best broth reputedly cooked in the oldest pan? As for lost hopes, they are a real challenge, and we take it up too.
From all these shared hopes were born and grew many of our tools:
And to start this new year on a high note, here is our latest harvest; these are brand new seeds, for which we have very, very high hopes:
Because even if we always do our best to make the future bright, a few more hopes are never too much ...
By the way, we are waiting for yours
!