Simple and fast information sharing with tiGus
Take the example of a cooperative to which several contract givers have subcontracted the propagation of their seeds. Each of these contract givers wishes to know the state of the stocks, from the initial reception to the delivery. As for the cooperative, it works with another cooperative, to which it must report on its activity.
Everyone has their tiGus subscription and their private space (represented by a small cylindrical tank), in which everyone is authorized to deposit information. SemWare guarantees confidentiality. TiGus is a secure web server accessible from anywhere.
How does tiGus work?
Each user transmits his data to the tiGus server, in his private space.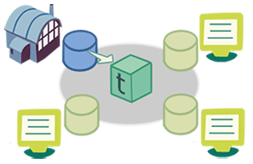 The tiGus server automatically distributes the appropriate data to each recipient private space. You define the distribution rules.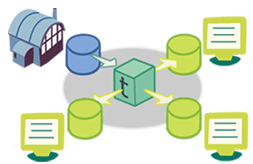 Each recipient can view information about himself.
TiGus and EDI
TiGus is equipped with EDI interfaces as standard. It is thus possible to exchange information between software, for example between SAP and the management software of your customers, or directly between the management software and tiGus!
Why not send data files directly to your management software?
To be able to extract and transmit each file concerning each subcontractor, the contract givers have to maintain as many interfaces as there are subcontractors. With tiGus, you only need one interface.
A subcontractor that does not have your management software can enter the information online, using his tiGus, and benefit from the automated exchange.
TiGus is much more than an EDI exchange system. Indeed, thanks to tiGus, the principal has interactive dashboards to analyze, in a naturally consolidated and qualified way, the range of stocks of the subcontractors.