Initial reception
In the Initial Reception screen, you enter the batches and stocks that enter the seed station, regardless of the seed stage. Reference information, such as the production contract, links to the phases upstream of the seed station. The screen configuration automatically adjusts to the context. The batches and stocks can be received without any container, or in containers, or in silos. They can also be distributed from a tipper. Inventory is assigned to warehouses and storage locations.
The external batch number links to an external system: production, subcontractor purchases or supplier purchases, free supply. The certified batch number (once the batch has been validated by the official certification bodies) is memorized. Stocks of treatment products can also be entered by means of initial reception.
The initial reception can be linked to an input management.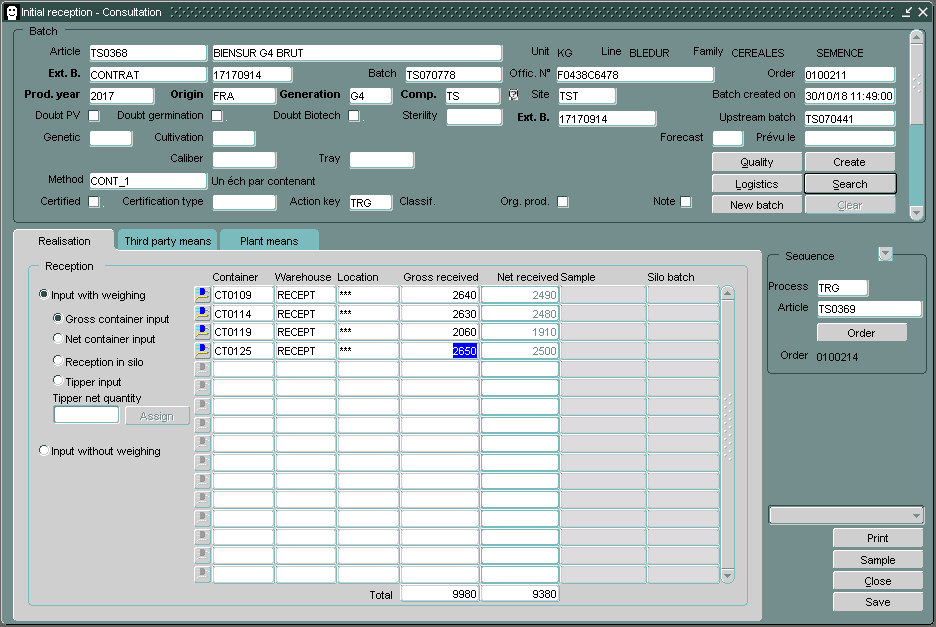 Manufacturing orders
Using a unique mechanism, it is possible to manage all manufacturing orders, in a simple and user-friendly way:
A reservation screen,
A realization screen.
IGus manages the classic manufacturing processes:
Calibration or sorting, re-calibration and densimetric table: iGus records, per batch, the calibration plan and the realization of the order; waste and by-products (e.g.: force-feeding/ bird husbandry) are recorded. It is possible to recycle some batches that have an intermediate quality and will be sorted again.
Packaging (bagging/re-bagging/re-labelling): available seeds as well as consumables (treatments, bags) are reserved. With iGus, the packaging can be ordered according to the quality of the seeds.
IGus also adapts to other manufacturing processes: assembly, batch splitting, silo racking, packaging. And for every process, iGus also manages the waste from manufacturing. It is possible to configure the mechanism of manufacturing orders.
Tracking sheets provide the link with the seed station.
IGus adapts to different factory circuits. Originally, iGus was designed for corn with intermediate storage. IGus was then adapted to faster or different circuits: sequencing calibration / bagging (conveyor belt), batch for recycling (seeds to be sorted again).
The realized quantities can be entered in gross or in net, as you prefer. IGus calculates the net quantities.
In iGus, you can sample and number your receptions for each manufacturing operation.